DirecTV Phone Number
Call DirecTV customer service faster with GetHuman
Current Wait:
15 min
&nbsp
(12m avg)
Hours: 24 hours, 7 days; best time to call: 9:30am
Get targeted help: Tell us the issue so we get you to right rep, offer relevant tips, reminders & follow-up!
Get to a live person fastest:
Drücken Sie 1, um einen neuen Service zu bestellen, drücken Sie 1 für Kundenservice oder drücken Sie 3, um aktuelle Angebote zu hören
Reasons customers like you called recently
Clarification of account charges
Wanted to add ballgame on sec channel tonight at *:**
We would like to speak with a live agent about changing and correcting our viewing pack...
I have DIRECTV stream and I'm at my house, have not changed my location yet it's tellin...
NBA League Pass games on NBA app won't work with DirecTv login**When trying to watch a...
Can aaron morales recieve DIRECTV STREAM AS A XMAS GIFT FREE INSTALLATION THANK U
Volume is muted automatically when I go to apps on my DIRECTV. This can only be fixed w...
Hand controllers dropped on floor too many times, need two replacements.
I am residing in Cheektowaga, NY and we have been out of any tv reception for over ten...
Tim cald yesterday we want to upgrade to ,*k tv box and one over agent told use It won...
I am getting a problem communicating with the satellite dish ***
We have had an ongoing problem with signal loss and communicating with dish. It is not...
See more recent reasons for calling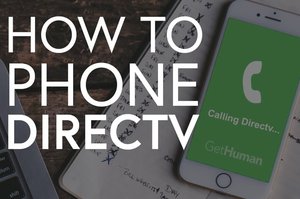 Our Editor's Notes on DirecTV's Phone-Based Customer Care
DirecTV is a provider of satellite television services. Acquired by AT&T in 2015, DirecTV has over 20 million subscribers. Prospective and current customers have the option of setting up new accounts or managing their current services using DirecTV's telephone customer service.
Why Do Consumers Call DirecTV Customer Support?
Consumers call DirecTV customer service for a range of reasons, including:
Ordering new service
Changing or canceling service
Technical issues with current service
Billing issues
While many of these issues can be managed online, some customers prefer speaking with a live person. DirecTV understands this and offers extended hours for customer service calls every day of the week.
When is DirecTV Customer Service Available by Phone?
General customer service and new customer set-up are available every day from 8 am to 12 am eastern time. Technical support is available 24 hours a day, seven days a week. Telecommunication Relay Service (TRS) is also available. This information applies to residential accounts: Business accounts are set up and serviced by a different division.
How Do People Feel About DirecTV Phone Customer Service?
At one time DirecTV was well known for high levels of customer satisfaction and there are many reports online from DirecTV users who are happy with their overall service, as well as their experience with phone-based DirecTV customer service.
On the other hand, some feel that the quality has slipped since the AT&T merger. Some individuals have complained that DirecTV customer service does not provide consistent care to its customers.
Another complaint is that the DirecTV phone systems do not keep appropriate records of calls. Failure to keep detailed call logs can result in customers having to tell their "story" to multiple agents, which can be frustrating.
Media Reports
There have been some media reports about DirecTV offering pay-per-view and sports channel deals and then not honoring the deal, charging the customer instead. In one case, a customer was promised a free sports channel and was charged for it. After requesting cancelation of service, the customer was charged an early termination fee.
Another case involved a customer whose roof was damaged by DirecTV. DirecTV offered to pay for repairs but repeatedly ignored requests for compensation after the customer had hired the approved contractor and paid the repair bill herself. Telephone representatives were particularly inept at handling the case, promising to call back and failing to do so.
In these cases, DirecTV was eventually able to work things out with customers, though third parties had to get involved.
What Kind of Issues can DirecTV Customers Handle Over the Phone?
Many issues, including technical and equipment problems, can be managed via DirecTV's customer service call center. These issues include:
Setting up and changing service
Canceling service and arranging for equipment return
Billing issues
Reports of technical and equipment issues, such as poor reception or sound
Scheduling technician appointments
What Can't be Managed Over the Phone?
While many reception issues can be diagnosed and addressed remotely, others require repairs or equipment replacement. In such cases, a phone representative will help to arrange for a technician visit or a way to send back malfunctioning equipment.
Technical Support Phone Tips
DirecTV advises callers with technical support questions to call from a room where they can be in front of their television set with a receiver in hand. This makes it easier for the representative to work with the caller to determine and, hopefully, resolve any issues with reception and equipment.
General Support Tips
Like many companies, DirecTV can use caller ID to identify you when calling, provided that your phone number is associated with your account. In cases where you are calling from a phone that is not associated with your account, it can be helpful if you have a recent bill handy so that you can provide the representative with your account number.
What Can You Do if DirecTV Phone Reps Can't Help?
Sometimes, and despite your best efforts, you may find it impossible to get your issues resolved with DirecTV over the phone. If you are in this situation, don't fret: You have other options for communicating with DirecTV customer service.
Visit the DirecTV website and request a live chat or post your issue on the site's community forum. Text-based communication has the advantage of providing you with a paper trail, which might be useful in further conversations.
Contact DirecTV on Twitter or Facebook. DirectTV customer service is managed on Twitter by @ATTHelp. As with live chat or community forum posts, social media communication can provide you with a written record of your communications.
Visit an AT&T retail store in your area. Call in advance if you need to set an appointment, or to clarify that their staff can work with you on a DirecTV issue.
Another option is to call back. Customer service representatives are individuals and some may be better than others at understanding and resolving your concerns.
Customer Number 800-756-0134 - by the Numbers
Telefonnummer zum Wählen800-756-0134
Rückruf möglichJA
Anruf von einer realen Person entgegengenommenJA
Abteilung, die Sie anrufenKundendienst
Callcenter-Öffnungszeiten24 Stunden, 7 Tage
Beste Zeit zum Wählen9:30 Uhr
Navigieren Sie durch das Telefonlabyrinth zu einem MenschenDrücken Sie 1, um einen neuen Service zu bestellen, drücken Sie 1 für Kundenservice oder drücken Sie 3, um aktuelle Angebote zu hören
Durchschnittliche Wartezeit
Aktuelle Wartezeitfünfzehn
Rang (unter den Telefonnummern)1
Rang (insgesamt)1
Alternative MethodenTelefon, Chat, Facebook, Twitter, Web
Qualität der Kommunikation42%
Qualität der Hilfe65%
Kundenstimmen74,414
Informationen zuletzt aktualisiertFri Nov 25 2022 10:00:00 GMT+0000 (Coordinated Universal Time)
DirecTV's Best Toll-Free/800 Customer Phone Number
Dies ist die beste Telefonnummer von DirecTV, die aktuelle Wartezeit in Echtzeit und Tools zum Überspringen dieser Telefonleitungen, um direkt zu einem DirecTV Agenten zu gelangen. Diese Telefonnummer ist die beste Telefonnummer von DirecTV, da 226,548 Kunden wie Sie diese Kontaktinformationen in den letzten 18 Monaten verwendet und uns Feedback gegeben haben. Häufige Probleme, die von der Kundenbetreuungseinheit behoben werden, die Anrufe an 800-756-0134 beantwortet, sind Cancel Account, Dispute a Charge, Service Outage, Technical Support, Payment Inquiry und andere Kundendienstprobleme. Das DirecTV Call Center, in das Sie anrufen, hat Mitarbeiter von Colorado, Idaho, Montana, Texas, Oklahoma, Philippines und ist laut Kunden 24 hours, 7 days geöffnet. Insgesamt hat DirecTV 7 Telefonnummern. Es ist nicht immer klar, wie man am besten mit DirecTV Vertretern sprechen kann. Deshalb haben wir begonnen, diese Informationen aus Vorschlägen der Kundengemeinschaft zusammenzustellen. Bitte teilen Sie uns weiterhin Ihre Erfahrungen mit, damit wir diese kostenlose Ressource weiter verbessern können.
Contacting DirecTV - by phone or otherwise
Während 800-756-0134 die beste gebührenfreie Nummer von DirecTV ist, gibt es insgesamt 11 Möglichkeiten, mit ihnen in Kontakt zu treten. Der nächstbeste Weg, um mit dem Kundensupport-Team zu sprechen, besteht laut anderen DirecTV Kunden darin, die 800-531-5000 Telefonnummer der Kundendienst Abteilung anzurufen. Neben dem Anruf ist die nächste bevorzugte Option für Kunden, die Hilfe suchen, über 800-531-5000 für Kundendienst. Wenn Sie der Meinung sind, dass diese Informationen ungenau sind oder andere Möglichkeiten zur Kontaktaufnahme mit DirecTV kennen, teilen Sie uns dies bitte mit, damit wir sie mit anderen Kunden teilen können. And you can click here if you want to compare all the contact information we've gathered for DirecTV.
What is GetHuman's Relationship to DirecTV?
In short, the two companies are not related. GetHuman builds free tools and shares information amongst customers of companies like DirecTV. For large companies that includes tools such as our GetHuman Phone, which allows you to call a company but skip the part where you wait on the line listening to their call technology music. We've created these shortcuts and apps to try to help customers like you (and ourselves!) navigate the messy phone menus, hold times, and confusion with customer service, especially with larger companies. And as long as you keep sharing it with your friends and loved ones, we'll keep doing it.